SOURCE: SILICON REPUBLIC
Helixworks named most innovative company at SXSW
As Ireland's only entry into the start-up pitch competition at this year's SXSW, Helixworks is celebrating being named the event's most innovative company. Founded by Nimesh Chandra and Sachin Chalapati in 2013, Cork-based
Helixworks
has experienced a number of successes, particularly since it was
selected
as one of the 13 start-ups for IndieBio EU (now RebelBio) in 2016. The synbio start-up is working within the
exciting field of DNA data storage
, which will one day offer the ability to store vast quantities of information into the very essence of life itself, and preserve it for potentially millions of years.
Last January, the company was
confirmed
as Ireland's only participant in the competitive
SXSW Accelerator Pitch
event, among the enterprise and smart data technologies finalists. Its efforts appear to have paid off, after being announced as the 'Most Innovative' company for the entire pitch competition, winning a prize of $1,000. The winner for the enterprise and smart data category that Helixworks was competing in was named as
Deep 6 Analytics
from California, which uses AI to speed up the patient referral process.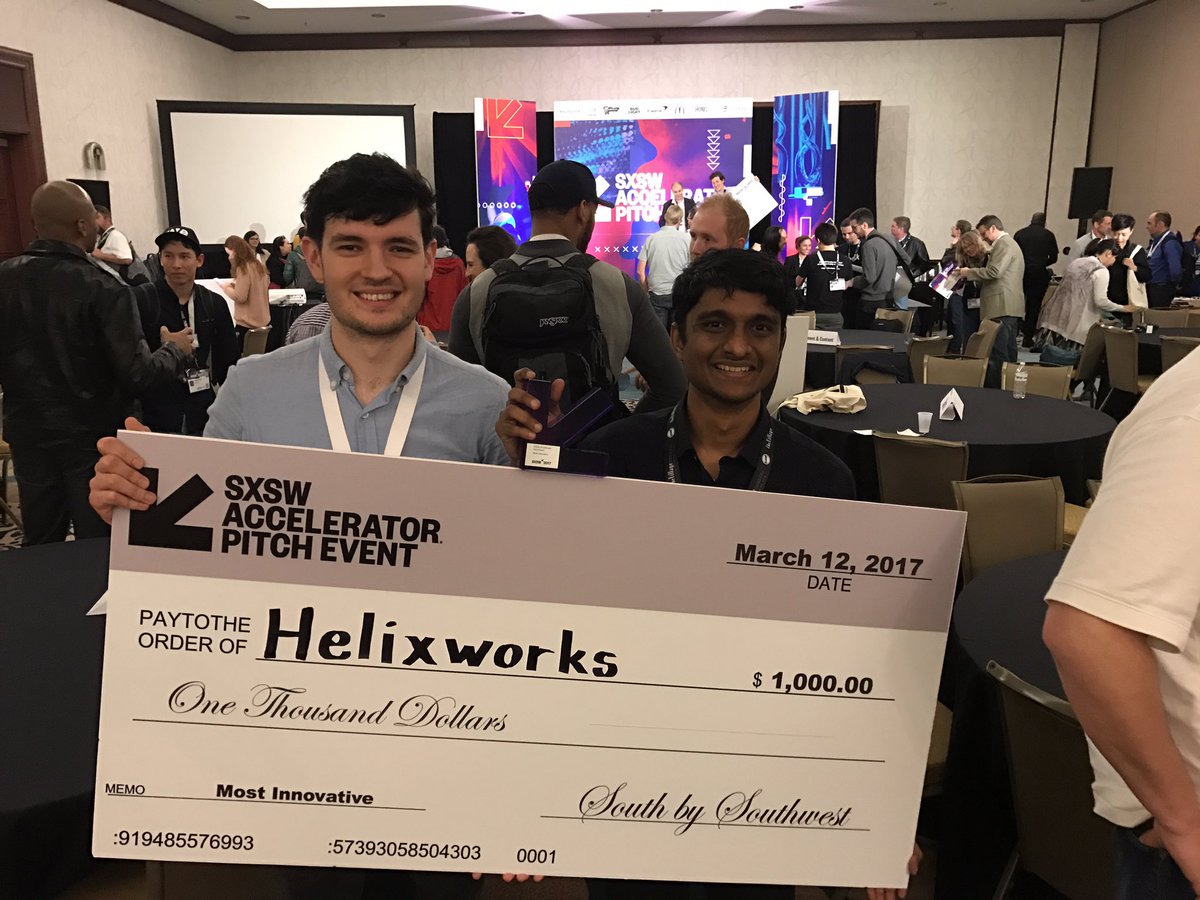 Storing data in DNA in real time
Other winners on the day included
Lampix
, an augmented reality start-up that has developed a platform to turn any surface into an interactive board for collaboration on projects. Helixworks will continue the development of its open source Molecular Storage System (MoSS), aiming to power future DNA storage systems. Speaking prior to the event, Chandra said that the company was planning to demo its latest device, the MoSS 2.0, to show digital data being coded into DNA in real time using its open source program. In its current state, Helixworks said that the MoSS process helps to ease the financial burden of trying to put data onto DNA. Its system transfers at a cost of $0.005 per byte with an areal data density of 2.5 petabytes per sq mm.