Innovation Challenge
2021 Innovation Challenge
The 2021 challenge will run from January 22nd 2021 to March 16th 2021 on Friday afternoons.
This year the following companies will be taking part:

• Cully & Sully
• Clearstream
• Irish Naval Service
• Pepsi
• Crann Centre
Be part of a multi-disciplinary team to tackle challenges posed by one of the companies. To register your interest apply here https://submit.link/FV0CK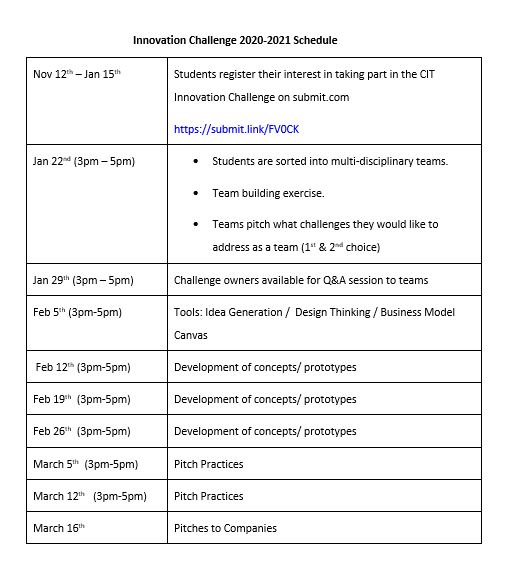 2020 CIT Innovation Challenge
The inaugural CIT Innovation Challenge got underway in January 2020 in the Rubicon Centre when 3 companies presented a variety of opportunities and issues that they would like CIT students to tackle. The companies include Clearstream, Swyft Energy and the Irish Naval Service. The 30 students come from many disciplines including Artificial Intelligence, Cybersecurity, Engineering, Business and Marketing and are involved in courses from apprentice level all the way to PhD level.

Over 7 weeks the multi-disciplinary teams will work to come up with potential solutions for the companies and will have workshops in idea generation and design thinking. The CIT Challenge is a collaboration between a number of departments within CIT: Mechanical, Biomedical & Manufacturing Engineering, Computer Science and the Rubicon Centre. It is a great opportunity for the students to work on real-life problems as part of a team and to work with students from other disciplines.